Here's the birthday girl! Actually, her birthday was June 3 but I was late about planning her party so she didn't get to Chuck E Cheese's until June 11. That just happened to be National "Knit In Public" Day! At least that's the buzz I heard on lots of other blogs. I've been known to knit in public on occasion so I made sure I had my knitting with me on Saturday. Since it was KIP day I "made" time to knit during the party. I will confess that I didn't get lots of knitting done.
So, here's a picture of me knitting at Chuck E. Cheese.
Do you see Chuck's picture there in the background?
I was knitting the last short rows on the shoulder of the left front of K's heart flowers cardigan. The fronts and back are knitted. I'm about a third of the way up the length of the sleeves but they are getting wider so progress will start to slow a little before I get to the cap shaping.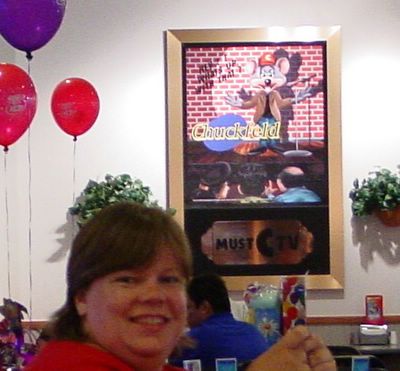 I am obsessed with this sweater. I usually carry a smaller project with me for traveling. I managed to stuff this into my backpack/purse and it's the only thing I've knit on since I started it. I can't wait to see it as a finished item. I really can't wait to get some pictures of K modeling it!
Gotta run. It's time to do the school pick up thing. It's swim team practice today and more time to work on the sleeves!