I've been working on the Criss Cross poncho from Hand Jive. It's making me blue - literally...
This
is what my left hand looked like after working on the poncho for about an hour. I know this is naturally hand dyed yarn but methinks it wasn't rinsed properly. At least I hope that's what the problem is. I hope all the gorgeous color isn't going to run down the drain the first time I wash this poncho.
Aside from the dye transfer I'm enjoying knitting this poncho. It's a nice light project and I love the color and feel of the yarn. It's fingering weight yarn on size 6 needles. The pattern calls for size 7 but I didn't like the 7's that I had available. I like the size 6 needles I had and I tend to be a loose knitter so I hope it all works out in the end. If not then either A gets an nice new poncho or I have a great gift for someone else.

I spent a little time this weekend getting a sock project established.
I posed the sock upside down on purpose (yeah! That's the ticket!) All three of my kids are taking swimming lessons together. That's 45 minutes, twice a week of hot, humid knitting time for me. I started these socks so I would have a small "carry around" project that I'll leave in a zip lock baggie in my purse. It took me three tries to get the toe going. I'm still not crazy about the way it looks but I decided to let it go this time and see how it fits. It's still a little too short to try on. The toe seems a little too pointy to me. I really like the stitch pattern even though this yarn isn't the greatest for showing it off. I'm going ahead with it anyway. Maybe this pair of socks will be a practice round and I'll make them again in the green sock yarn I got at the Fiber Festival last Friday.

Here's a shot of A after school last Wednesday.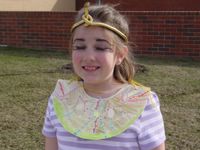 Her grade just finished studying their unit on Egypt and celebrated with an Egyptian feast. She wore a white costume dress instead of the purple and white stripes for the party. She made the necklace in class as part of their studies. I took this shot as we were rushing to the car after picking A and J up. A was neither patient or excited about getting her picture taken. We were on our way to swimming lessons and I wanted to make sure I got a picture before she had to remove the makeup to get in the pool.