I got several votes after my last post about what my next project should be. It was unanymous! My next project will be a wrap knit with Knitpicks Alpaca Cloud!

The idea for this project came directly from and has amazing similarity to a wrap I saw on the Gromit Knits blog (check out the April 6 and April 12 entries!) It's beautiful and I keep going back to that blog to look at the wrap.

So, I've spent a lot of time thinking about my version of this wrap. I know I want to use the Alpaca Cloud that I already bought. My initial idea was that it would be very open and lacey, accented with beads and very drapey. I was thinking of using a garter based lace pattern so the wrap would be reversible. I selected the Midnight blue color. I already have a sparkley red shawl so I decided not to use the Autumn color. Friday, I went to the Rag shop and found some nice beads.
They are 2 cut glass beads. I don't really know what the size is.

I spent the better part of Friday trying to figure out a way to knit this wrap without having to pre-string all these beads. Alas, the beads are too small for even my tiniest crochet hook (size 14) to fit through. I strung the beads. Last night I spent more than 3 hours knitting. This is all I have to show for it.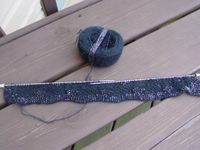 I couldn't get a good shot of the lace. If you click on either picture you can see an enlarged view to see more of the details.

I was disappointed at how slowly this wrap is growing. I've been sliding the beads along the yarn and the yarn seems to be holding up reasonably well under the abrasion. I had to give up my plan for a reversible wrap. The beads are on one side only. I'm okay with that now because I don't know if I'd want the beads pressing into my skin. An unexpected bonus is that the abrasion the yarn is taking has brushed up a little "halo" on it. The private side of this wrap is amazingly soft!

I'm going to rip it all out though. I don't like the lace that I'm getting on size 1 needles. It's too tight. I wanted something a little softer. I just got a pair of bryspun single point needles in size 4. I'm going to try them and see what happens. My biggest concern right now is the yarn. It's been roughed up by the beads. I don't know how it will take to being ripped. At least I probably won't have to slide the beads too much when I reknit. I'll keep you posted.

Lisa, I would love to knit the Braids Cardigan with you! It's a great idea! I'm in the same boat with you. I haven't knit completed a sweater for myself either so we can encourage each other to finish. A little peer pressure can be a good thing!