My Cutie Pie




Memorial Day Sale

I got to the Memorial Day Sale at my LYS. I had a great time browsing their stuff. I don't go there very often because I have so much yarn at home but I got to get some yarn that I hadn't used before. I also had a gift certificate that one of my friends gave me for my birthday!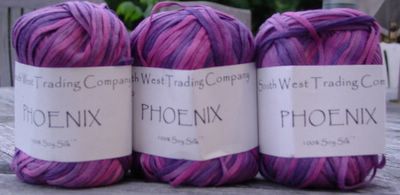 Mmm! Soy Silk. I've been drooling over this yarn since I first saw it months ago. I love the way it feels. I also love that it's made from the byproduct of tofu production. I don't particularly care for tofu but I love the economy of a yarn made from the waste of food production. Ultimately, this yarn will become this top for A (my cutie pie!)


This yarn is for me. I got 8 balls but I've only pictured 6. (Do you know how to make a pyramid with 8 things?) I'm going to use it to knit this top. The top has a hood which I want to omit but I want to keep the shawl collar looking part. If you have any ideas on how to accomplish this please let me know!